Blog Archives
A Recipe by Beth Hillson
Yield: 24 bars
This is my latest go-to dessert.  I take it to pot luck dinners, bake sales, you name it!  It's easy, delicious and amazingly versatile.  Use whatever fruit is in season.  Vary the sweetness of this recipe by adding more or less sugar depending on your tastebuds and the natural sweetness of the fruit.  The bars freeze well.
I made these using RYZE Blue Flour Blend.  Instead of measuring out a bunch of flours, I use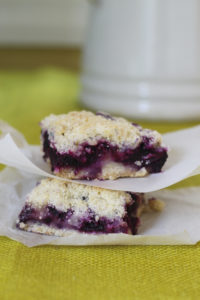 one ingredient.  However, you could certainly make this with any A/P flour blend.  Make sure it contains xanthan gum or add 1 teaspoon xanthan gum to the recipe.
For the Dough
3 cups RYZE Blue Flour Blend or an A/P Gluten-Free Flour Blend that contains xanthan gum
1 cup granulated sugar
1 teaspoon baking powder
¼ teaspoon salt
1 cup (2 sticks) unsalted butter, cold, cut into small pieces
1 large egg, lightly beaten
For the Filling
4 cups (2 pints) fresh blueberries of 5 cups peeled, sliced peaches or apples (about 6-7)
1 tablespoon lemon juice
1 teaspoon vanilla
½ cup RYZE Blue Flour Blend or an A/P Gluten-Free Flour Blend that contains xanthan gum
½ to ¾ cup granulated sugar
¼ teaspoon salt
½ teaspoon ground cinnamon
¼ teaspoon ground nutmeg
Preheat the oven to 375 degrees F. Line a 9×13-inch baking pan with aluminum foil and coat with vegetable spray.
Make the Dough: In the bowl of a food processor fitted with the knife blade, add the flour, sugar, baking powder and salt. Pulse several times to combine.  Add butter and pulse until mixture resembles coarse meal (about 10 pulses).  Add the egg and pulse briefly.  Empty contents into a large bowl. With a fork, mix the dough until egg is distributed evenly.  Dough will be crumbly.  Or combine dry ingredients in a medium bowl.  Use a pastry blender to cut in the butter, and then the egg.
Pat half of the dough into the prepared pan. Place the pan and the remainder of the dough in the refrigerator to stay cold while preparing the filling.
Make the Filling: Place the washed and drained blueberries in a large bowl and sprinkle with lemon juice and vanilla. Mix gently. In a separate bowl, whisk together the flour, sugar, salt, cinnamon and nutmeg. Sprinkle over the fruit and toss gently with a wooden spoon.
Spread the fruit mixture evenly over the crust. Crumble the remaining dough over the blueberries.
Bake in the preheated oven for 45 minutes, or until the top is slightly brown. Cool completely before cutting into squares.
This time of year I dream in blueberries.  Perhaps it's because the local crop is out and the berries are so sweet.  I also dream in pancakes.  They seem to go together like love-and-marriage and milk-and-honey.
My dream goes this way.  I see waiters delivering plates piled high with light, airy flapjacks.  From behind a vegetable frittata, I see diners drizzling warm maple syrup over stacks of golden discs.  I watch them sawing wedges three cakes deep and piercing them with forks. Then, mouths line up in receiving position and heads tilt until the triangular parcels disappear.  And I drool into my fruit cup.
I'll admit it.  I have a chronic case of Pancake Envy.   I miss the light-textured, gluten-filled pancakes of yester year, the ones that made me say, "Ah" when I bit into them,  the delicate cakes kissed with warm blueberry juice.  So many gluten-free pancakes disappoint me  – –  so gummy, so dense they lay  in the bottom of my stomach for what seems like days.
The other day,  as I thumbed through a cookbook written by friends, DeDe Lahman and Neil Kleinberg, I opened to a recipe called "Neil's Pancakes."  The picture was beyond gorgeous.  I wondred.  Could I make them over?  Would they come close to the pancakes I remembered in my dreams?
If anyone could give me the fundamentals for making perfect pancakes, I knew it was Neil.  He and his wife, DeDe,  own Clinton Street Baking Company, an acclaimed neighborhood restaurant on Manhattan's Lower East Side.   The duo serve five hundred orders of pancakes a week in their hole-in-the-wall 32-seat place.  Imagine, 500 plates of pancakes!
Although Neil comes from a classical French culinary background, he is an amazing baker and he shares great tips as well as gorgeous recipes in the cookbook of the same name.   Of course the book is written in gluten. There's flour everywhere.  But it's tantalizing close-up photos make my mouth water and my fingers itch to convert the recipes so I can eat them.  Who wouldn't be wooed by Black and White Cake with chocolate frosting cascading gracefully over luscious white cake or a giant bowl of Corn and Clam Chowder, chunks of bacon, potato and corn kernels suspended in the rich broth?  And the endless photos of pancakes – –  topped with raspberries, blueberries, bananas and chocolate.  Oh yum.  Neil touches every culinary bone in my body.
So today I made over Neil's famous Blueberry Pancakes.  I want you to know they are, indeed, the best pancakes I've ever tasted.  I know you'll want to make them, too.  But before you
begin, here are a few tips about making this recipe over.
(1)  I started with a light self-rising flour blend using nutritionally dense sorghum and amaranth flour.  It's healthy besides being light and sorghum and amaranth contain protein.  It helps add structure to gluten-free baking.
(2)  I used 1 ½ teaspoons baking powder per cup of blend and added more to the pancake batter.  It's a lot of baking powder, but necessary to create the light, airy texture.
Then I followed some of Neil's tips.
(1) Preheat the griddle before using.
(2) Fold in stiffly beat egg whites for additional lift.  Once added, don't over mix or batter can deflate.
(3) Add fruit after pancakes have set to prevent the blueberries from bleeding their color into the batter.
Blueberry Pancake Makeover
Makes 14-16, 3 inch pancakes
Inspired by a recipe in Clinton St. Baking Company Cookbook by DeDe Lahman and Neil Kleinberg.
2 cups self-rising flour blend
1 teaspoon baking powder
1/3 cup sugar
3 large eggs, separated or flax gel
1 ½ cups 2% milk, soy milk or milk of choice
¾ teaspoon vanilla extract
6 tablespoons melted unsalted butter or non-dairy buttery spread
1 cup fresh blueberries (frozen will not work as well) or bananas, sliced and chunked
Combine flour blend, baking powder, and sugar.  Separate eggs.  To yolks add milk, vanilla, and butter, whisking to combine.  Add the dry ingredients and whisk to blend.  In a
separate bowl, beat the whites until soft peaks.  You'll notice lines beginning to form and stay on the surface as you beat.  Do not overbeat.  Fold half the whites into the batter and blend.  Fold remaining whites into mixture. Do not blend completely. (You will still see bits of white foam.)
Preheat griddle or flat pan to between 350 and 375 degrees.  (Preferably use a non-stick pan.)  Lightly oil the surface.  Use a ¼ cup scoop and drop batter onto preheated griddle.  After the batter has begun to set, sprinkle blueberries or banana pieces over the surface.  When under side is golden brown, flip the pancakes and cook an addition 3-5 minutes or until browned on the other side.
Serve with real  maple syrup, blueberry compote, or enjoy as is.
SELF-RISING FLOUR
Reprinted from Gluten-Free Makeovers (Da Capo Press, Oct 2011)
Mix up a big batch and store in the refrigerator.  Use for muffin, quick bread and pancake recipes.
1¼ cups white rice flour (6.5 ounces)
1 cup sweet white sorghum flour (4 ounces)
¾ cup amaranth flour (3 ounces)
¾ cup cornstarch (3.5 ounces) or potato starch (4 ounces)
¼ cup tapioca starch/flour (1.1 ounces)
2 tablespoons baking powder
2 teaspoons xanthan gum
1½ teaspoons salt
All contents © 2011 Gluten-Free Makeovers®