Monthly Archives:
October 2011
As a child, my biggest worries this time of year were whether Mrs. Lord was making caramel corn balls for Halloween and if Mrs. Oakes would have any candy coated apples left by the time I came to her house to trick or treat.
I spent the entire month of October anticipating the Candy Corn, the Tootsie Rolls, and the Mars Bars that would fill my shopping bag – several bags, if I was lucky.  As I counted the days until the end of the month, I brooded about the ever cooling weather pattern.  Would there be snow in the tiny Maine town I called home?  Would I need mittens – something that made it very difficult to eat Mrs. Oakes' sticky candy apples. Most of all, I wondered how many layers of clothing I would need to wear under my costume.  Would the ubiquitous black cat costume still fit or would I have to opt for my brother's red devil number?
In school, I sketched faces I might want to carve into my jack-'o-lantern.  I practiced drawing angry faces, funny ones, sad ones.   In the end, the pumpkin always looked the same, owing to my lack of dexterity and the ever-dull knife that was the only one my mother allowed me to use.  Each year I promised myself that next year's pumpkin would be much better.  It never
was.
But not once did I realize that all the pumpkins I carved or stole from people's porches and smashed in the middle of the road were edible, that pumpkin was food.  I missed the connection, that these orange orbs were essential to my grandmother's Thanksgiving pumpkin pie and my mother's pumpkin quick breads.  Pumpkin – – duh?!
I can't say when the light went off, when I began using pumpkin in baking rather than carving.  But one day, it did.  And, now it's the orange flesh that pleases me.  Low in calories and high in fiber and vitamins, pumpkin is my friend.  And it's particularly great for gluten-free baking, adding moisture and texture to muffins and quick breads.   Warm spices – – cinnamon, ginger, cardamom, cloves, and nutmeg – – pair nicely with pumpkin puree.  Although you can bake a pumpkin and remove the flesh, you can also buy canned pumpkin puree.  It's so much easier and just as good.
So, say "Hello" to pumpkin and its many uses, and to this flavorful, moist pumpkin bread with crumb topping I made in honor of the season .
Pumpkin Bread with Crumb Topping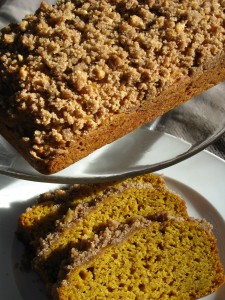 Makes 2 Medium Loaves
½ cup white rice flour
1 cup sorghum flour
1/3 cup cornstarch
2 ½ tablespoons tapioca starch
1 tablespoon baking powder
1 teaspoon xanthan gum
¾ teaspoon salt
½ teaspoon baking soda
½  teaspoon
ground cinnamon
¹⁄8 teaspoon
ground nutmeg
2 large eggs, at room temperature
1½ cups pumpkin puree (most of a 15-ounce can)
1 cup sugar
½ cup vegetable oil
¼ cup chopped pecans or other nuts, optional
1 cup Crumb Topping (below)
Preheat the oven to 350°F. Lightly oil two 8½ x 4½-inch loaf pans.
Combine the flours, cornstarch, tapioca starch, baking powder, xanthan gum, salt, baking soda, cinnamon, and nutmeg in a bowl. In a separate bowl, whisk together the eggs, pumpkin, sugar, and oil. Add to the dry ingredients and whisk to combine. Fold in the pecans, if using.
Divide the batter evenly between the two pans. Sprinkle ½ cup of the crumb topping over each loaf. Bake for 40 to 45 minutes, until toothpick inserted in the center comes away clean. Set on a wire rack and let cool for 10 minutes. Turn the breads out onto the rack and let cool completely. Wrap with plastic and let sit overnight before slicing.
Crumb Topping
Makes 3½ Cups or 3 Cups If Nuts Are Omitted
Store remaining topping in the refrigerator for 3 weeks or freezer for 3 months. 
¾ cup rice flour
1 cup packed brown sugar
1 tablespoon ground cinnamon
¼  teaspoon ground nutmeg
¼ teaspoon ground cloves
½ teaspoon salt
½ cup ground pecans, walnuts, or almonds, optional
6 tablespoons unsalted butter or non-dairy buttery spread, at room temperature, cut into pieces
Combine the flour, brown sugar, cinnamon, nutmeg, cloves, salt, and pecans, if using, in a large bowl. Mix well. Add the butter and use your fingertips to mix just until crumbly.
In late September we bicycled through the cranberry bogs in Cape Cod.  The weather was gloriously sunny – -spectacular in fact.  I could not get enough of the sparkling late summer air – – the sun on my face, a faint, salty breeze tussling my hair, an apple-picking crispness brushing cobwebs from my brain.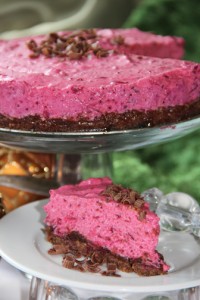 What could be better than a lazy Saturday afternoon on a relatively flat bike trail?  But, as I peddled, I realized something was missing.  The cranberry bogs beside the trail were dry and empty.  Don't cranberries grow in water? And where are the plants, anyway?  I expected to see seas of red as we bicycled.
"What happened to all the cranberries?" I asked the store owner when we returned the bikes.
"Harvested," he said.   (Cape Codders are not known for using more words than needed.)  "Headed for market, " he added.
"Oh," I said, trying to emulate his frugality.
Sure enough.  Two weeks later, fresh cranberries began appearing in the produce aisle of my favorite grocery stores.  Now, I realize that fresh cranberries are frozen and sold all year long.  But I had never quite appreciated the relationship between the harvest and the availability of fresh produce.  Who thinks about these things when they are pushing a grocery cart through a crowded supermarket?
In celebration, I bought three bags of fresh cranberries.  It seemed fitting to honor the cranberry harvest with something sweet, and slightly sour.  I came up with a Chocolate Cranberry Mousse Tart that I served for a recent gathering.  I've made it twice since and the balance of tart and sweet, like the late summer sun, always amazes me.
You may find more superlatives to describe this easy dessert.  But, in keeping with the Cape Cod tradition, I'll just say, "Wow."
The graham cracker crumb crust with a layer of chocolate can be used for many mousse-like pies.  I keep a supply of Kinnikinnick graham-style crumbs on hand to make this dessert.  And now I will keep a supply of fresh and frozen cranberries at the ready, too.
Chocolate Cranberry Mousse Tart
This is as festive as it is delicious.  Decorate with whipped topping and chocolate shavings and garnish with cranberries.
One chocolate graham crumb crust (below) in a 9-inch tart or springform pan.
12-ounce bag fresh or frozen cranberries, rinsed and drained
¾  cup sugar, divided
6 tablespoons orange juice
2 ½ teaspoons dried orange peel
1/3 teaspoon ground ginger
3 tablespoons Triple Sec or other orange liqueur or additional orange juice
1 tablespoon unflavored gelatin softened in 1 1/2  tablespoon orange juice
1 ½ cup whipping cream or non-dairy whipped topping
In a medium saucepan, combine cranberries, 6 tablespoons sugar, orange juice,
orange peel, and ground ginger.  Bring to a boil, stirring frequently.  Lower heat
to medium low and cook, stirring frequently until cranberries break down, about
15 minutes.  Remove from heat.  Add Triple Sec and stir.  Let cool slightly.  Press mixture through a mesh sieve, scraping  puree into a bowl.  Do this until all the liquid has been pressed out of the fruit.  Discard pulp.  Warm the gelatin in a microwave for 10
seconds or until it liquefies.  Pour into the cranberry mixture in a steady stream, stirring while adding.  Scrape into a bowl and chill about 20 minutes.
Beat the cream and remaining 6 tablespoons sugar until stiff.  Fold into cranberry mixture and spoon into prepared crust.  Chill at least 3 hours.  Cut and serve with additional
whipped cream if desired.  Garnish with chocolate shavings.
Chocolate Graham Cracker Crust
This easy and tasty crust can be made several days ahead and stored in refrigerator
until ready to use.
1 cup gluten-free graham cracker style crumbs (such as Kinnikinnick brand)
3 teaspoons unsweetened cocoa
¼ cup sugar
3 tablespoons melted butter or non-dairy spread
½ cup semi-sweet chocolate chips, for dairy-free chips visit enjoylifefoods.com
2 tablespoons light cream or coconut milk
Preheat oven to 325 degrees.  Lightly oil the bottom of a 9-inch springform pan.
Combine cookie crumbs, cocoa and sugar.  Add the melted butter and stir until crumbs are moistened.  Press into the bottom of the prepared pan.  Bake in the center of a preheated oven, 12 minutes.  Remove and cool.
In a microwave safe bowl, combine chocolate chips and cream or coconut milk.  Heat on medium for 1 minutes or until chips are softened.  Blend together until smooth.  Spread mixture over cooled crust.  Chill until set.  Fill with cranberry mousse filling above.