Monthly Archives:
July 2015
Serves 8
This light, refreshing salsa is packed with flavor and perfect for summer entertaining.  Serve with sturdy corn tortilla dippers.  This way, you are guaranteed to get a big mouthful of deliciousness in each bite.  The salsa is great with grilled lamb, fish, and chicken, too, so you might want to make a double recipe.
3 cups finely chopped seedless watermelon, (about 3 pounds with the rind)
1 medium jalapeno pepper, seeded and minced
3 to 4 tablespoons finely chopped red onion
2 tablespoons minced fresh cilantro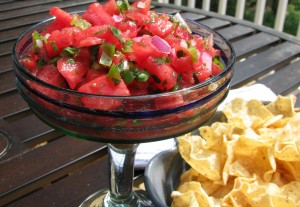 1 ½ tablespoons minced fresh mint
2 tablespoons honey
Juice of one lime
Gluten Free Corn Tortilla Dippers
Directions
In a large bowl, combine the all ingredients except the dippers.  Toss gently to coat.
Refrigerate for at least 1 hour and up to one day. Serve with lots of chips.
Makes  9-12 Large Brownie Squares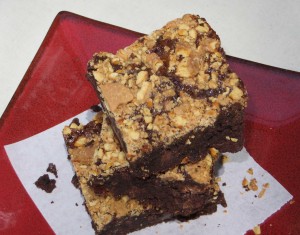 Decadent doesn't begin to describe this luscious treat.  When you think about it, what could be bad about a treat that combines chocolate, salt, caramels and pretzels?  Perfect for a summer picnic or barbecue, you'll be making these over and over in the next few months.  And no practice is involved, these are easy, quick, fun to make and always turn out well.  Even the kids can help.  Just keep little fingers away from the molten caramels.
I made these for the folks at Glutino/Boulder Brands recently.  I put out a giant platter and turned away for a moment.  Alas, only crumbs were left.  Make a platter for your family and watch them disappear just as quickly!
The instructions are for making a box of Gluten-Free Pantry Brownie Mix.  You could use any gluten free brownie mix that makes an 8 or 9-inch square pan of brownies. Omit the eggs and butter here and follow the instructions on the package.  I used Glutino Salted Caramel Pretzels and Kraft individually wrapped caramels.
1 box Gluten Free Pantry Double Chocolate Brownie Mix*
2 large eggs
1/3 cup plus 1 tablespoon melted butter
1 1/3 cups coarsely ground gluten free Salted Caramel Pretzels, divided
24 gluten free caramels, unwrapped
2 tablespoons cream or milk
Preheat the oven to 350 degrees.  Line an 8 x 8-inch pan with aluminum foil.  Lightly oil the surface with vegetable oil or use no-stick aluminum foil.  Set aside.
In a large bowl, beat the eggs for 2 minutes or until light and frothy.  Slowly add the brownie mix.  Beat to moisten.  Add the butter and mix to combine.  Fold in ½ cup of the chopped salted caramel pretzels.
Spread into prepared pan and bake for 20 minutes.  In a medium microwave-safe bowl, combine the caramels and the cream.  When the brownies have baked 18 minutes, heat the caramels in the microwave for 1 minute at medium power.  Stir and heat another 30 seconds if the mixture is not melted.  (Don't worry if you see small lumps of candy.  These will melt as you stir the mixture.)  Let cool 1 minute and spread over the top of the brownies.  Some of the mixture will swirl into the brownie batter.  That's good!
Gently press remaining chopped pretzels into the caramel mixture with the back of a rubber spatula.  (Don't touch the melted caramels with your fingers.  They are hot!)
Return the pan to the oven.  Bake an addition 17 to 20 minutes or until the center seems set and does not jiggle when you touch the pan.
Cool.  Lift from the pan using the edges of the foil.  Cut into squares.  Enjoy!
*Use any gluten free brownie mix that makes an 8 or 9-inch square pan of brownies and follow the instructions for preparation on that package.