Blog Archives
Posted by vicorock on December 14th 2016 @ 10:14 pm
Recipe from Beth Hillson
Makes 20 to 22 cookies
These shortbread cookies dipped in chocolate make for delightful treats and great holiday gifts. They look just like the Keebler Cookies but taste even better! I used RYZE Blue Flour Blend in place of my own blend. I discovered that this blend makes fabulous cookies – better than any other flour blend I've tried. So, maybe I've given away Keebler's trade secret (not), but this little discovery about RYZE is just between us gluten free bakers. If you prefer, omit the chocolate step and use this recipe for cutout holiday cookies.
2 cups RYZE Blue Flour Blend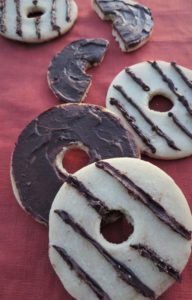 2 teaspoons baking powder
¼ teaspoon salt
1 cup butter, at room temperature
3/4 cup powdered sugar
2 teaspoons pure vanilla extract
16 ounces chocolate chips, melted*
For the Cookies:
Preheat oven to 350°F. Line two baking sheets with parchment paper and set aside.
In a medium bowl, combine RYZE flour, baking powder and salt. Set aside.
Beat butter and sugar on medium speed until fluffy, about 2 minutes. Add vanilla and beat to combine.
On low speed, slowly add flour mixture, stopping to scrape the sides of the bowl until a soft dough forms.
Turn dough onto a sheet of plastic wrap. Cover with a second sheet of plastic wrap and roll to 1/4-inch thickness.
Use a 2 ½ inch biscuit or other circle cutter to cut out cookies. Use a ¼ to ½ inch circle to cut out the centers. Gather the extra dough from around the sides of the cutouts. Slide the piece of plastic with the cut out cookies onto a cutting board or the back of a baking sheet and refrigerate for 15 minutes so the cookies can be lifted without tearing.
Place cookies on prepared baking sheets, 2 inches apart. Bake for 10-12 minutes until edges are just barely golden brown.
Let cookies cool on sheets for 5 minutes before removing to wire rack to cool completely.
Gather remnants of dough into a ball, roll out and cut into more circles as above.
To make the Fudge Stripes and Bottoms:
Spread wax paper on your countertop. Dip bottoms of cookies in melted chocolate, allowing excess to drip off before placing on wax paper.
Once all of the cookies have been coated in chocolate on one side, transfer the remaining chocolate to a small pastry bag fitted with a small, plain tip or a plastic baggie with a hole snipped off one corner.
Drizzle each cookie with stripes. Let chocolate firm up before serving cookies.
*Here's a tip for melting the chocolate: Melt ¾ of the chocolate in a large heat-proof bowl over boiling water. Remove from the heat and add 1 to 2 teaspoons of the hot water (or more) until chocolate is smooth but not too thin. Add remaining chocolate to melted chocolate and stir until smooth. Add more boiling water if necessary.
A Recipe from Beth Hillson
Makes 36 to 40 cookies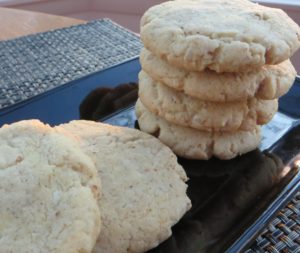 These Pecan Sandies were inspired by Keebler cookies or, perhaps, it's the other way around.  One thing is for sure, these cookies will inspire you.  They are a hit with everyone who tries them.  Easy to make, they freeze well and can be mailed without breaking.   I used RYZE Blue flour blend but you could use another all-purpose gluten-free flour blend, too.  I like RYZE because it does not contain gums and I think their Blue blend works well for cookies.  If you use another flour blend, add 1 teaspoon xanthan or guar gum and 2 tablespoons additional corn or potato starch.
1 ¾ cups RYZE Blue flour blend
½ teaspoon cream of tarter
½ teaspoon baking soda
½ cup organic non-hydrogenated shortening (like Spectrum)
½ cup granulated sugar
½ cup confectioners' sugar
2 large eggs, lightly beaten
¼ teaspoon salt
1 teaspoon vanilla extract
½ cup finely chopped pecans 
Line 2 cookie sheets with parchment paper.  Set aside. 
Combine flour, cream of tartar, and baking soda.  Mix well.   
In a large mixing bowl, beat the shortening and the sugars until fluffy.  Add the eggs, salt and vanilla and beat to combine.  Add the flour mixture, about 1/3 at a time, beating after each addition.  Fold in the pecans.
Chill the dough for 30 minutes.  Preheat the oven to 350 degrees. 
Roll the dough into walnut-size pieces (about 1-inch balls) and set on cookie sheets.  Flatten each until it is about ¼ inch thick.  Bake 12 to 14 minutes or until the edges are slightly golden.  Cool and enjoy. 
These are even better the second day and can be wrapped and stored in the freezer for up to 6 weeks.
Recipe by Beth Hillson
Makes 30 to 32 cookies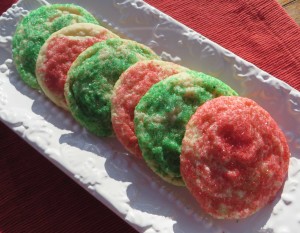 These rich, buttery cookies are slightly crisp on the outside with a chewy center. They have quickly become my favorite cookies; they'll be yours, too.
Dip dough in colorful sanding sugar to turn them into beautiful holiday cookies.  Top with chopped pecans or fold chopped, toasted nuts into the batter to create another variety. Perfect for cookie swaps and gifting, you'll be making these cookies for occasions all year long.
1 cup (2 sticks) unsalted butter, room temperature
1½ cups granulated sugar
1 large egg
1½ teaspoons vanilla extract
2 cups cookie and cake flour blend (below)
1 teaspoon baking powder
1/4 teaspoon baking soda
1/4 cup sour cream
Sanding sugar or sprinkles (optional)
In a large bowl, cream together butter and sugar with an electric mixer until light and fluffy, about 3 minutes. Scrape down sides with spatula. Add egg and vanilla. Mix until combined.
In a separate bowl, whisk together flour blend, baking powder, and baking soda. Add half to wet ingredients, mixing on low speed. Then add sour cream and combine. Finally, add the rest of the dry ingredients. Mix until the dough is well blended.  Cover with plastic wrap and chill for 30 minutes.
Preheat oven to 350F. Line cookie sheets with parchment paper.  Roll dough into walnut-size balls.  Dip one side in sugar (if using). Place sugar-side up on parchment-lined baking sheets, two inches apart as dough will spread.
Bake for 15 minutes, until edges start to brown slightly.
Cool for 10 minutes in pans before removing to wire racks to cool completely. Cooled cookies will keep in an air-tight container at room temperature for several days and can be frozen for up to 2 months.
TIP:  Can't have dairy products?  Replace butter with dairy-free buttery sticks from Earth Balance and sour cream with dairy-free sour cream from Tofutti or Follow Your Heart.  For lactose-free sour cream, check out Green Valley Organics.
Cake and Cookie Flour Blend
This makes enough flour blend for several batches of your favorite cookie recipes.
2 cup sweet white sorghum flour
2 cup white rice flour
1 ½ cups cornstarch
3 teaspoons xanthan gum (or guar gum)
1 teaspoon salt
Mix to combine.  Store leftover blend in a zip-lock bag in the refrigerator.