Monthly Archives:
January 2015
A Recipe From Beth
Serves 10 to 12
Is there anyone alive who doesn't love Tiramisu?  When I make this, it literally disappears when I turn my back for one second.  Delicious doesn't begin to describe this decadent Italian dessert. The rich flavors of mascarpone and cream cheese (or dairy-free alternatives) marry well with the light, airy texture of angel food cake. Make this at least a day ahead to guarantee that all the flavors blend together.  Start with the Espresso Chocolate Chip Angel Food Cake as the base for this yummy dessert, as it boasts flavors of coffee and chocolate. However, any angel food or yellow cake recipe can be used.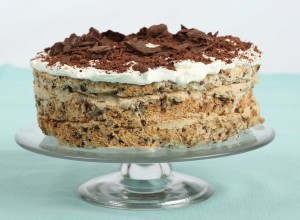 1 cup very cold heavy cream*
1 (8-ounce) container coffee-flavored or plain mascarpone (Italian cream cheese) or 8 ounces softened cream cheese*
4 ounces low-fat cream cheese, softened*
1/3 cup confectioners' sugar
½ cup strong coffee, divided
2 teaspoons pure vanilla extract
3 tablespoons Cognac or brandy
1 Espresso Chocolate Chip Angel Food Cake  (or other cake)
1/3 cup shaved (curled) semisweet chocolate shavings
Line the bottom and sides of a 9-inch springform pan with waxed paper or parchment paper.
With stand or hand mixer, whip heavy cream until stiff and set aside.
In a large bowl, beat mascarpone, cream cheese, confectioners' sugar, 1/4 cup espresso and vanilla. Fold 1 cup whipped cream into the mascarpone mixture, reserving the rest of the whipped cream for topping.
In a small bowl, mix remaining 1/4 cup espresso with Cognac.
With a serrated knife, cut cake horizontally to yield three even layers. Set one layer in the bottom of the prepared springform pan, pressing it to the edges of the pan. Brush the surface with some of the espresso-Cognac mixture. Spread half the mascarpone mixture over the first layer of cake and top with the middle layer of cake. Brush with espresso mixture and top with remaining mascarpone mixture. Top with remaining layer of cake and brush with espresso mixture. Spoon the reserved whipped cream over the top.
Cover with plastic wrap. Chill for at least 6 hours. Unmold and sprinkle with shaved chocolate curls.
* For dairy-free Tiramisu, replace all the cream cheese with a total of 12 ounces dairy-free cream cheese and use So Delicious CocoWhip in place of whipped cream
To Make Chocolate Curls
Melt 1/2 cup semi-sweet chocolate chips with 1 tablespoon of unsalted butter.  Spread in a thin layer over the bottom of a cookie sheet or plate and chill for 30 minutes.  Using a spatula or a knife, scrape away pieces of the chocolate from the surface of the pan or plate in strips.  These should curl slightly as you scrape them from the surface.  Top the Tiramisu just before serving.
This recipe is part of a comprehensive article on how to successfully make angel food cake that will appear in the Spring Baking Guide from Gluten Free & More.  Pick up a copy on newsstands in March 2015.
A Recipe from Beth
Serves 10 to 12 
Your Sweetheart will swoon over this sinfully delicious cake that is just about perfect – light and fluffy with notes of chocolate and coffee.  The only thing better is when you turn this cake into Tiramisu.  You'll find the recipe on this blog, too. Or, if you prefer, serve slices of Espresso Chocolate Chip Angel Food Cake with whipped cream that's infused with coffee flavored liqueur. Either way, Cupid says you can't miss. 
The cake keeps for several days wrapped well in plastic wrap and stored at room temperature. It can also be frozen for up to two months.  Remove wrap before thawing as ice crystals can cause the cake to become soggy.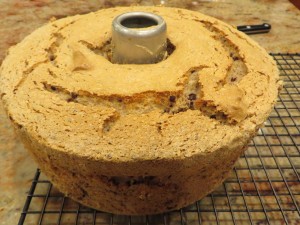 2 teaspoons instant espresso coffee powder
1 cup Beth's Cake Flour (below)
3 tablespoons cornstarch
1½ cups sugar, divided
12 large egg whites or 1½ cups, at room temperature
½ teaspoon salt
1½ teaspoons pure vanilla extract
1½ teaspoons cream of tartar
¾ cup chocolate chips, coarsely chopped in a food processor
Preheat oven to 350°F. Sift espresso coffee powder with cake flour, cornstarch and ¾ cup sugar in a medium bowl. Set aside.
Place egg whites in the clean, dry bowl of a stand mixer or a large mixing bowl. Beat egg whites with salt and vanilla at medium speed until foamy. Add cream of tartar. Beat at high speed until whites form soft peaks. With the mixer running, add remaining ¾ cup sugar in a slow, steady stream. Beat until whites are shiny and form stiff peaks (4 to 5 minutes).
Sprinkle half the flour mixture over the egg whites and fold in by reaching a spatula to the bottom of the whites and drawing it back through the mixture gently to incorporate. Don't stir or mix the ingredients. Repeat with remaining flour.
When flour mixture is nearly incorporated, fold in chopped chocolate chips. Make sure chips are spread evenly throughout the batter. Pour into a 10-inch ungreased tube or angel food cake pan. Spread evenly.
Place in preheated oven and bake 45 to 55 minutes or until a skewer inserted in the middle comes out clean. Invert the cake on a rack and let cool completely upside down in the pan. To unmold the cake, run a thin knife around the side of the pan and the tube and gently push the base up if using a two-piece pan, or invert the cake onto a serving plate.
Slice with a serrated knife. Serve with whipped cream that's infused with coffee flavored liqueur, or use as the base for the Tiramisu recipe, coming next.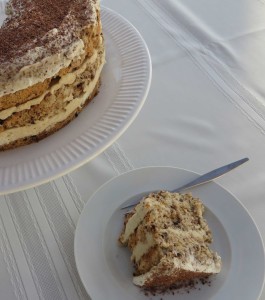 Beth's Cake Flour Blend

1 cup sweet white sorghum flour
1 cup white rice flour
¾ cup cornstarch
1½ teaspoons xanthan gum
Whisk ingredients together in a large bowl until well combined.
This recipe is part of a comprehensive article on how to successfully make angel food cake that will appear in the Spring Baking Guide from Gluten Free & More.  Pick up a copy on newsstands in March 2015.
Makes Two 12-inch Pizzas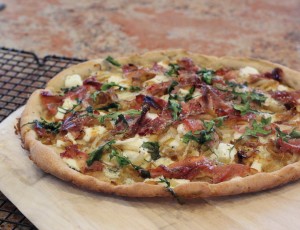 This is National Pizza Week.  But, seriously, isn't homemade pizza worth celebrating any time of the year?  This pizza has endless possibilities. It's called white because there are no tomatoes or sauce on this pie.  However, add some tomatoes or pizza sauce, if you prefer a more traditional pizza.  Experiment with your favorite cheeses and herbs, too.  And leave the cheese off or use dairy free cheese, if milk is not on your list.  If you have a pizza stone and a peel (wooden paddle) use those as the crust will be chewier.  Otherwise, use a heavy baking sheet or a round pizza pan and set it on the lowest rack in the oven so it browns nicely.   Cut all ingredients in half if you wish to make one pizza.   This freezes nicely (especially without pizza sauce) so you might want to make both and save one for another day.
The Toppings
4 tablespoons extra virgin olive oil, divided
1 large onion, thinly sliced
Pinch of sugar
½ teaspoon salt
6 ounces fresh ricotta cheese (part skim milk cheese is fine)
2 ounces Gorgonzola cheese, crumbled, optional
4 ounces thinly sliced prosciutto or other Italian meat
½-1 cup baby arugula
Italian seasoning, to taste
Pecorino Romano cheese, to taste
The Dough
Makes 2, 12-inch pizzas
2 ½ cups high protein blend, below
½ cup millet flour
1 tablespoon xanthan gum
1 teaspoon salt
5 teaspoons instant active dry yeast
1 1/3 cups warm water
2 tablespoons olive oil
1 tablespoon honey
1 teaspoon cider vinegar
Preheat oven to 425°F. If using a pizza stone, place it on the lowest rack and preheat the oven. Do this 30 to 60 minutes ahead so the stone is very hot. If you're not using a stone, it's not necessary to preheat the oven for an extended amount of time.
Make the toppings.  In a medium skillet, heat 2 tablespoons olive oil over medium heat. Add onion and sauté to soften, about 2 minutes. Add sugar and salt and reduce heat to lowest setting. Cook onions until they turn a rich golden brown, about 10 minutes. Remove from heat and set aside.  Lay out all the other toppings you will be using.
Make the dough.  In the bowl of a heavy duty mixer fitted with the paddle attachment, combine the high protein blend, millet flour, xanthan gum, and salt.   Blend well.  Add the yeast and blend.  Combine water, oil, honey, and vinegar.  Beat at medium high speed for 3 to 5 minutes or until the dough thickens.
Scoop half the dough onto a lightly oiled sheet of parchment paper.  Cover with a sheet of lightly oiled plastic wrap.  Use finger tips and palm to lightly press the dough into a 12-inch circle.  Use finger tips to create a rim of dough around the edge that will become a pretty crust.  Drizzle olive oil of the surface and top with a light coating of pizza sauce.
Scoop half the dough onto a lightly oiled sheet of parchment paper. Cover with a sheet of lightly oiled plastic wrap. Using fingertips, lightly press the dough into a 12-inch circle, creating a rim of dough around the edge to form a crust.
Drizzle 1 tablespoon of remaining olive oil over the surface of 1 crust. Place small dollops of half the ricotta evenly over the olive oil, followed by half the Gorgonzola cheese. Top with half the cooked onions and slices of prosciutto. Scatter half the arugula over the top. Sprinkle with Italian seasoning and Pecorino Romano cheese.
Slide pizza (with parchment paper) onto a pizza paddle and then onto the stone, pizza pan, or baking sheet set on the lowest rack of preheated oven. Bake 16 to 20 minutes. When done, the bottom of the pizza will be lightly browned. (While first pizza is baking, repeat with remaining dough and ingredients.)
Remove pizza from oven and let cool briefly. Slice and serve warm.
High Protein Blend (from Gluten-Free Makeovers)
Blend well and scoop out 2 ½ cups for the pizza recipe above.  Reserve the rest for later use.
1¼ cups white or brown rice flour
1¼ cups sweet white sorghum flour
½ cup amaranth flour
¾ cup cornstarch or tapioca starch
Shortcut:  Use a commercial pizza crust mix and follow my instructions for preparing it.  I've had good luck with pizza mix from Glutino Gluten Free Pantry, King Arthur brand, and Bob's Red Mill mix.