Monthly Archives:
August 2017
Get your Mojo on!
Garlic, red-pepper flakes, and citrus give this Cuban mojo a little kick. Adding molasses to the marinade gives the pork a rich bronze hue and adds wonderful flavor to the tenderloin. This can also be made with chicken thighs. Wedges of orange and pineapple make for a colorful presentation. Marinate the pork overnight for maximum flavor. Serve with polenta or rice and beans for a complete meal.
Serves 6 to 8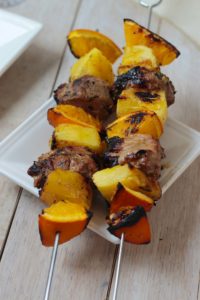 Marinade
2 tablespoons olive oil, more for grill
4 cloves garlic, minced
1/2 teaspoon red-pepper flakes
¼ cup chopped fresh mint
1 tablespoon fresh oregano, chopped or 1 ½ teaspoons dried oregano
¼ cup orange juice
1 tablespoon lime juice (about 1 lime)
2 tablespoons molasses (preferably dark)
2 pork tenderloins (about 2 pounds total), cut into 1 ½ -inch cubes *
1 large orange, preferably seedless, cut into 16 wedges
½ fresh pineapple cut into large chunks or 1 ½ cups canned or frozen pineapple chunks
Salt and freshly ground pepper, to taste
Extra orange wedges and pineapple chunks for garnish
In a zip-lock bag, combine oil, garlic, red-pepper flakes, mint, oregano, orange juice, lime juice, and molasses. Seal the bag and shake the ingredients to blend. Add the pork and toss with the marinade. Refrigerate at least 2 hours or up to 12 hours.
Heat a grill to medium heat (about 375 degrees). Clean and lightly oil hot grill. Thread pork, orange, and pineapple chunks onto skewers, reserving leftover marinade. Season with salt and pepper. Grill kebabs (with the cover closed) 3 to 5 minutes per side for medium. Keep an eye on the kebabs so they don't burn.
Heat the reserved marinade to a boil. Drizzle over kebabs or pass with the kebabs, if desired. Garnish platter with extra orange and pineapple.
*Cut the pork tenderloin into 2-inch slices and cut each slice in half to make cubes.
On a recent visit to Jovial Foods in North Stonington, CT, I discovered how great gluten-free pasta can be and uncovered a few tips for turning it into delicious, quick meals every time.
Lots of water, a little salt and a simple recipe are a few of the essentials, says Carla Bartolucci, owner of Jovial Foods.
Carla prides herself on getting a meal on the table in the time it takes to cook the pasta. To do that, she cooks the vegetables with the pasta so everything is ready at once.
She made our fabulous (and very simple) lunch that way.  It begins with Jovial's new Farfalle (bow tie) pasta, a treat in itself.  
Gluten-free pasta dishes have to be wetter, she says. Brown rice absorbs a lot of extra liquid. She saved some cooking water to add back to the sauce as she prepared our lunch of farfalle with broccoli, baby kale, ground turkey and cannellini beans.   I've made a version of it several times, using the vegetables on hand.  If yours are quick-cooking veggies, add them for the last couple of minutes but be sure the water is boiling before adding them.  
Here's the yummy recipe.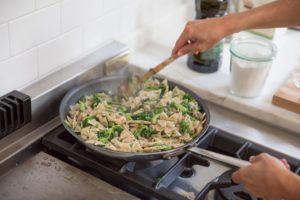 1, 12-ounce box Jovial Farfalle (Bow Tie Pasta)
2 cups fresh broccoli florets
4 cups baby kale, snipped with scissors
3 tablespoons olive oil
1 clove garlic, peeled and cut in half lengthwise
½ pound ground dark meat turkey
1, 13oz jar (about 2 cups) cannellini beans, rinsed and drained
Freshly grated Parmesan cheese
Bring a 4 quart pot of water and 1 tablespoon of salt to a boil. Add the farfalle, broccoli, and baby kale. Do not lower the heat. Cook the pasta according to the instructions. If you like your vegetables crisper wait 2 minutes before adding the vegetables to the pot.
While the pasta is cooking, add the olive oil and garlic to a large sauté pan and cook over low medium heat until the garlic become fragrant, about 1 minute. Use a slotted spoon to remove the garlic and discard. Add the turkey and sauté until no longer pink. Add the beans and heat. Add about ½ cup of the pasta water and simmer until sauce has thickened slightly.
Drain the pasta and veggies and add to the turkey mixture. Toss well. Drizzle with more olive oil and add cheese to taste and serve with additional cheese.