Monthly Archives:
May 2013
My friends at Attune Foods asked several bloggers to create recipes that would delight Mom's, especially those who are gluten-free.  I am honored that my recipe for Turkey Strata Muffins is among them.  For the entire booklet, follow this link to Attune Foods.
Here's my recipe to whet your appetite.
Turkey Crunch Strata Cups with Orange Slices and Balsamic Glaze
Serves 6
These delicious, muffin-size strata are packed with flavor and a little crunch.  They make a hearty, attractive breakfast for Mom and leftovers can be frozen or refrigerated for an ideal weekday breakfast on the go.  Maple syrup lends some sweet notes that work nicely with the turkey and cheese.  However, if you don't want that touch of sweetness, it can be omitted.
2 tablespoons olive oil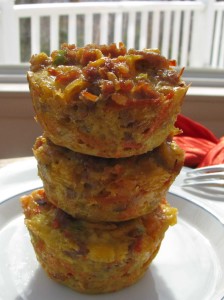 1 medium leek, white part only, cleaned and chopped
3 uncooked turkey sausage (about 1 pound)
1 cup shredded carrots
1 cup Erewhon Brown Rice Cereal
1 ½ cups shredded cheddar cheese
5 large eggs, beaten
2 to 3 tablespoons pure maple syrup
Orange segments or slices (peel removed) for garnish
Maple Balsamic Glaze for drizzle (recipe follows)
Lightly oil 12 muffin cups.  Preheat oven to 350 degrees.
Heat olive oil in a large skillet.  Add leek and sauté 2 minutes or until fragrant.
Remove casing from sausage.  Add sausage to leeks and sauté, crumbling the sausage with the back of a spoon as it cooks.  Sauté until sausage is cooked and no pink is visible.  Remove from heat and cool.  Break apart any lingering chunks of sausage (or chop with a knife) and transfer mixture to a large bowl.
Add carrot, cereal and cheese and mix well.  Taste and add salt and pepper if desired.  (Usually, the sausage has plenty of flavor without additional seasonings.)
Combine eggs and maple syrup.  Add to sausage mixture and mix well.
Scoop into muffin cups and press gently.  The filling will be above the tops of the cups, but it shrinks during baking.
Bake 23 to 25 minutes.  Remove from oven.  Let sit 5 minutes to set and turn onto a cooling rack.  Cool to room temperature or serve warm.
To serve, set two strata muffins on a plate and garnish with 3 to 4 orange slices and a drizzle of Maple Balsamic Glaze.
Strata can be refrigerated for up to 3 days and reheated or frozen for future use.  This makes a nice grab and go breakfast for Mom's busy work week, too.
Maple Balsamic Glaze
3 tablespoons real maple syrup
2 teaspoons dark balsamic vinegar
Combine and warm briefly in the microwave.  Drizzle over orange slices and strata cups before serving.
About Leeks:  Leeks grow in mounds of dirt.  The best way to clean them is to remove and discard the green top of the stalk.  Rinse any visible dirt from inside the layers of the leek and chop finely.  If leeks still seem sandy, transfer the chopped leek to a bowl and add cool water.  Any leftover dirt will sink to the bottom while the chopped leek will rise to the top.  Scoop out with your hand and transfer to a strainer.  Discard any leeks that remain in the bottom of the bowl.
Do ahead:  Sauté leeks and sausage and refrigerate overnight.  Add remaining ingredients in the morning and prepare as above.  Or make the strata cups the night before.  Just before serving, reheat gently in a 350 degree oven for 5 to 7 minutes.