Category Archives:
Uncategorized
When food writer and chef, Robin Asbell asked me to take part in a blog potluck to introduce her new Gluten-Free Pasta book (Running Press) I was all ears.  "Can you make Crêpe Cannelloni with Roasted Veggies and Chèvre?" she asked.
We eat a lot of roasted veggies in my house so I was hooked immediately and Robin is a champion of all things vegetable.  Then I received a copy of Robin's gorgeous book.  It's filled with more than 100 ways to make pasta including easy, homemade noodle recipes like these Crêpe Cannelloni.  And she's included low-carb (and no-carb) options and dishes with an Asian flare as well.  I mean, there is something for everyone in this book.  And, of course, it's all gluten free.
As a food writer, I love browsing through cookbooks and this one is great for window shopping.  But there are several recipes I want to try right off the bat.
The recipe I picked to reprint here has several steps. But it's worth it.  I did not make the Veggie Spaghetti Sauce, however, although I included the recipe here.  It sounds delish. Instead, I used a good quality commercial product (Muir Glen).  That's the one shortcut I would recommend if time is limited.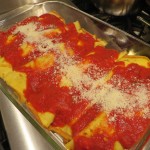 The crepes were easy to make, light and wonderful with the vegetable filling.  You can also make these into easy strands for noodle dishes.  My husband and I ate several filled cannelloni in one sitting.  And this is a terrific way to get kids to eat their vegetables.
I can't wait to try more of Robin's recipes.  For more, visit her web site robinasbell.com
I am giving away a copy of Gluten-Free Pasta to one lucky reader.  Just leave a comment to this post or on my Facebook page to win.
Be sure to include your email address in the comment so I can contact you.  the offer ends Sunday, March 30.  Sorry, but it's only open to US residents.
The following recipes are Reprinted with permission from Gluten-Free Pasta © 2014 by Robin Asbell, Running Press, a member of the Perseus Books Group.
Roasted Vegetable Egg Crêpe Cannelloni with Chèvre
Egg crêpes make a wonderful pasta stand-in in this delicious dish. Butter-soft roasted veggies are laced with tangy chèvre, rolled in tender crêpes, then topped with classic red sauce before being baked to crusty greatness.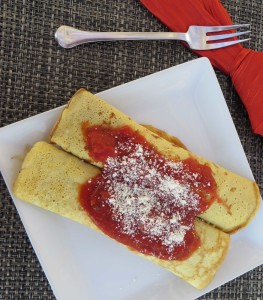 Serves 8
1 pound asparagus (tips and tender stalks only), cut into 2 to 3-inch pieces
1 pound zucchini (about 2 medium), cut into 2 to 3-inch sticks
1 medium yellow onion, thinly slivered
1 large red bell pepper, thinly sliced
1 tablespoon extra-virgin olive oil, plus more for the pan
1/2 teaspoon fine salt
1/2 teaspoon freshly cracked black pepper
3 garlic cloves, chopped
1/4 cup packed fresh basil leaves, chopped
6 ounces chèvre cheese
1 recipe Egg Crêpe "Noodles" (recipe as follows)
2 cups Veggie Spaghetti Sauce (recipe as follows), or use a good quality commercial sauce)
1/2 cup grated Parmesan cheese
Preheat the oven to 400°F. Combine the asparagus, zucchini, onion, and red bell pepper in a large bowl and add the olive oil, salt, pepper, and garlic. Toss to mix. Spread the veggies on 2 sheet pans and roast for 20 minutes, then stir, rotate the pans, and roast for 10 minutes more.
The veggies should be tender and browning. Let the pans cool to room temperature on racks. Leave the oven on. When cool, transfer the veggies to a medium bowl and add the basil, then toss to mix.
To assemble the cannelloni, lightly oil a 13 x 9-inch baking pan. Lay the crêpes out on a counter or cutting board. Divide the chèvre and veggies among the crêpes, then roll them up and place them in the baking pan, seam-side down. Cover with the veggie sauce and then sprinkle the Parmesan down the center of the crêpes.
Bake, uncovered, for 35 to 45 minutes, or until the sauce is bubbling and the cheese is melted and golden.
Egg Crêpe "Noodles"
Serves 4 to 6
1/2 cup (60 grams) garbanzo flour
3/4 cup milk
1 teaspoon fine salt
8 large eggs, whisked
Canola oil, for the pan
Whisk the garbanzo flour, milk, and salt in a large bowl until smooth. Add the eggs and whisk again.
Heat an 8-inch crêpe pan or a small sauté pan over medium-high heat. Brush or spray with oil.
Measure 1/4 cup of crêpe batter into the pan and quickly swirl to coat just the bottom of the pan. Cook for a minute or two, until set and flip over carefully. Cook the second side for only a couple of seconds and transfer the crêpe to a cutting board to cool. Continue with the remaining crêpe batter.
When all the crêpes are cooked and cooled to room temperature, you can either use them for cannelloni or roll them up and slice them thinly into strands. Toss to fluff. These can be stored, tightly covered, for up to 4 days.
Veggie Spaghetti Sauce
This is a simple sauce to use for everything. It is full of chunky vegetables but is delicious and tomatoey enough that kids love it. Make a double batch to freeze and use it for quick weeknight spaghetti, pizzas, and lasagna, or anywhere else a red sauce would be appropriate. I use Muir Glen canned tomatoes.
Serves 6 (Makes 6 Cups)
2 tablespoons extra-virgin olive oil
2 large yellow onions, chopped
1 pinch red pepper flakes (optional)
4 garlic cloves, minced
4 ribs celery, diced
2 large carrots, diced
2 tablespoons fresh thyme leaves, coarsely chopped
1/4 cup red wine dry Burgundy or chianti
1 (15-ounce) can tomato sauce
1 (15-ounce) can tomato purée
1 (14.5-ounce) can diced tomatoes
1 teaspoon fine salt, plus more as needed
Freshly ground black pepper
In a 4-quart pot, heat the olive oil over medium-high heat. Add the onion, pepper flakes, garlic, celery, carrot, and thyme. Once the mixture begins to sizzle, reduce the heat to medium-low. Cook, stirring often, for at least 10 minutes, and up to an hour if you have the time, to caramelize the onions and add more depth of flavor. Add the wine and bring to a boil, then stir in the tomato sauce and purée, diced tomatoes, salt, and pepper.
Bring the mixture to a boil, then reduce the heat to a simmer and cook for about 15 to 20 minutes, or until the sauce is thick and the vegetables are very tender. Season with more salt and pepper, if desired.