Blog Archives
I have exciting news  . . well, sort of.  Gluten-Free Makeovers won an honorable mention at the New England Book Festival.  Ordinarily I would do the always-a-bridesmaid-never-a-bride thing and wallow in butter cream for a few days.  But the category was cookbooks, all types of cookbooks.  Mine was gluten-free, a fairly narrow subject within the category.  And the cookbook that won was Around My French Table by Dorie Greenspan.  It has universal appeal and has taken honors everywhere.  If there is anyone I would want to be the bride in this category, it's Dorie.  I'm a huge fan of this great lady and wonderful chef.  Her book, all her books, are well researched and inspired.  And  her recipes work.  Besides, she lives in Connecticut part of the year.  We are almost neighbors.
So, when I was asked to recreate a spice cake for some readers, this not-too-sweet cake appeared on my radar.  It came from a recipe by Dorie Greenspan that appeared in Bon Appetit Magazine in October 2009.  I knew I couldn't miss if I made over a recipe she had created.
This one is amazing.  It's light and moist and, although considerably revised to make it gluten-free, I thank Dorie for steering me in the right direction.  By frosting only the top and center of the cake with cream cheese frosting and using applesauce for part of the fat, it's lower in calories than it's hi-test cousin.
Dorie says to use fairly sweet apples with a sturdy structure like Gala of Fuji apples. There's no question this is a winner.  And, all things considered, it would make a fabulous wedding cake.
Apple Spice Cake with Spiced Cream Cheese Frosting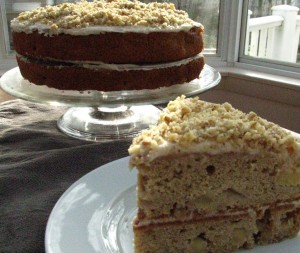 This cake serves 12
Cake:
1 cup brown rice flour
1 cup sorghum flour
½ cup tapioca starch
½ cup cornstarch or potato starch
1 ½ teaspoons xanthan gum
1 ¾ teaspoons ground cinnamon
1 ½ teaspoons baking powder
½ teaspoon salt
½ teaspoon baking soda
½ teaspoon ground nutmeg
¼ teaspoon ground ginger
¼ teaspoon ground cloves
1 cup (2 sticks) unsalted butter, room temperature
1 ¼ cups sugar
¾ cup (packed) light brown sugar
3 large eggs
2 teaspoons vanilla extract
2 tablespoons brandy or rum (optional)
1 1/3 cups unsweetened applesauce
2 medium Fuji or Gala apples, peeled, cut into 1/3-inch cubes (about 2 cups)
Spiced Cream Cheese Frosting:
1, 8-ounce package reduced fat cream cheese, room temperature
½ stick unsalted butter, room temperature
2 teaspoons vanilla extract
Pinch of salt
3 cups powdered sugar
½ teaspoon ground cinnamon
½ teaspoon ground nutmeg
½ cup coarsely ground walnuts
Position rack in center of oven and preheat to 350°F. Lightly oil two 9-inch-round cake pans with 2-inch-high sides. Whisk first 12 ingredients in medium bowl. Using electric mixer, beat butter in large bowl until fluffy. Add both sugars and beat until smooth.  Add eggs one at a time, beating well after each addition. Beat in vanilla, then brandy, if desired (mixture may look curdled).  Add flour mixture to egg mixture in thirds alternating with the applesauce. Beat until blended after each addition.  Fold in apples.  Divide batter between cake pans; smooth tops.
Bake cakes on the center rack until tester inserted into center of each comes out clean, about 45 to 50 minutes. Transfer cakes to racks and cool in pans 15 minutes. Cut around pan sides to loosen cakes. Invert cakes onto racks.   Cool completely.
This can be made a day ahead. Wrap each cake in plastic and store at room temperature.
To Make the Frosting:
Using electric mixer,  beat cream cheese and butter in large bowl until smooth. Beat in vanilla extract and pinch of salt. Gradually add powdered sugar, beating until frosting is smooth and creamy, about 2 minutes.   Add the cinnamon and nutmeg and beat briefly to incorporate.
Transfer one cake to serving platter, flat side down. Drop half of frosting (about 1 1/2 cups) by spoonfuls atop cake.  Spread frosting evenly to edges of cake. Top with second cake, flat  side down. Drop remaining frosting by spoonfuls onto top of cake, leaving sides of cake plain. Spread frosting to top edges of cake, swirling and creating peaks, if desired. Sprinkle with walnuts.  Let cake stand at room temperature 1 hour to allow frosting to set slightly.
Or cover loosely and refrigerate. Let cake stand at room temperature at least 2
hours before serving.