Anginettes: Easy Cookies for Easter
Posted by Beth Hillson on March 14th 2012 @ 4:58 pm
My latest makeover comes from Lois A. who asked me if I would recreate her recipe for an Italian cookie called Anginettes.  She said her family made batches of these delectable treats for Christmas and Easter and delivered them all over the neighborhood.  I'm not surprised.  The cookies are amazing and the recipe makes enough to feed an army!  I cut the batch in half but you can double it if you have a large family or are planning a gigantic Easter gathering.
As I researched Anginettes, I found that these cookies are a tradition in many families.  Everyone has their own way of making them as well as story or two romanticizing the cookies – – wooing boyfriends with plates of these, making them for every member of the family or feeding the entire neighborhood.
Some family recipes call for adding citrus (lemon or orange); others make Anginettes with anisette liquor.  Some drop the cookies; others, like Lois, roll them into knots.  Many frost them with colorful confectionary icing as I have done here.
One thing is clear.  This humble, slightly sweet cookie pairs well with strong coffee and good friends.
Certainly with all that tradition surrounding Anginettes, it seemed like someone should try to make them gluten-free.   I was up to the task.  But first, I had a few questions for Lois.
"Are they soft, hard, big, small?" I asked.  Lois told me the texture should be soft.  And the shape?  It was another puzzle for a novice Anginette baker like me.  Lois said the dough was rolled like a snake and folded over.  "Folded like a pretzel?" I asked.    Then she told me, "I get a melon ball- size piece of dough and form it into about a 3″ long snake.  I put one end of the snake onto the baking sheet and bring it around and up, piling it on top of itself."  She sent a picture of finished cookies all frosted in pretty pastel colors.
I'm happy to say mine looked just like the picture.  However, I was not able to twist 3-inch snakes.  Mine were longer, around 5 to 6 inches.  "Some families drop teaspoons onto baking sheets, but my family always did it this way," she said.  I tried making drop cookies too,  and they were equally delicious.
To Make Over Lois's Recipe:  I replaced the regular flour with the Cake and Pastry Flour below.  The flour blend is light and not the least bit grainy, lending itself to delicate pastries.  I added a little more xanthan gum so the cookies would be more elastic and easier to roll and form.  And I cut the shortening into the dry ingredients before adding the eggs and vanilla.  That method almost always guarantees a light texture.
Several of the recipes called for orange juice.  I added some to half the dough but it made it too wet to roll.  So I made that portion into drop cookies – – equally good.  I made confectionary frosting and divided it into three bowls, adding a different food color to each bowl.  The result was these festive Easter cookies that are ridiculously easy and sinfully delicious.  They taste even better the second day and freeze well, too.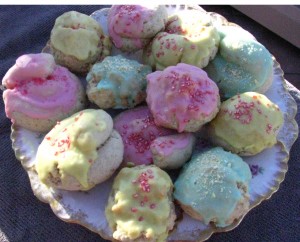 Anginettes (Makes 30 to 36 cookies)
2 ½ cups Cake and Pastry Flour (below), unsifted
½  cup sugar
1 ½ tablespoons baking powder
1 teaspoon xanthan gum
½ cup + 2 tablespoons Earth Balance organic shortening or other organic shortening, in small pieces
3 large eggs, lightly beaten
1 teaspoon vanilla
1/3 cup orange juice (to make drop cookies)
Preheat the oven to 375 degrees.  Line 2 cookie sheets with parchment paper.  Set aside.
Combine flour blend, sugar, baking powder and xanthan gum.  Cut in the shortening until mixture resembles coarse crumbs.   Mix in eggs and vanilla.  (Add the orange juice here if making drop cookies.)
Pull off walnut-size pieces and roll into 6" long snakes.  Wind the dough in a circle around itself with the end set on top.  Place on cookie sheet.  Bake 10-12 minutes.
Cool and frost with confectioners' sugar mixed with enough milk so that it is of frosting consistency.  Frosting can be tinted if desired.
Cake and Pastry Flour 
2 cup sweet white sorghum flour
2 cup white rice flour
1 ½  cups cornstarch
3 teaspoons xanthan gum (or guar gum)
1 teaspoon salt
Mix to combine.  Store leftover blend in a zip-lock bag in the refrigerator.
Post filed under Recipes and tagged dessert recipes, Desserts, Easter Cookies, Essy cookies, gluten free, Makeovers, recipes.