From Beth Hillson
Makes 24 balls
Preparation time: 10 minutes
Here's the ultimate quick, delicious dessert from Carol Fenster's new cookbook, 100 BEST QUICK GLUTEN-FREE RECIPES.  My friend, Carol, is a master of gluten-free cooking and baking.  She has produced eleven cookbooks and each one is better than the last.  But this one truly takes the proverbial gluten-free cake!  Every recipe can be made in 30 minutes or less.  With the holiday season around the corner, you'll welcome these simple and yummy recipes for meals, entertaining and all your holiday treats.  Here's one of my favorites.
Serve these bite-size treats during the holidays or at dinner parties in little foil or paper candy liners. Their small size and rich, satisfying flavor makes them ideal for when you want just a little something sweet, not an entire dessert. A food processor makes the prep super-fast. You can replace the white chocolate with dark chocolate, if you wish.
1 cup whole almonds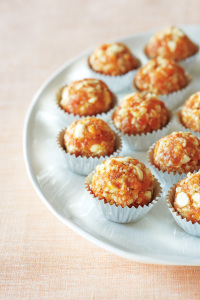 2/3 cup powdered sugar
2 cups dried apricots (about 12 ounces)
2 tablespoons light or dark rum or orange juice
2 teaspoons grated orange zest
1 teaspoon pure vanilla extract
3 ½ ounces white chocolate chips (or a 3.5- ounce bar of white chocolate, chopped or broken into ¼ -inch chunks)
In a food processor, process the almonds and powdered sugar until the almonds are very finely ground. Add the apricots and pulse until the apricots are very finely chopped.
Add the rum, orange zest, vanilla, and white chocolate chips and pulse until the mixture is just blended. With lightly oiled hands, roll and compress the dough into 24 balls, each 1 -inch in diameter. Refrigerate for at least 1 hour to firm up. Serve in foil or paper candy liners.
STORAGE: Store leftovers, tightly covered, for up to 2 days in the refrigerator or for up to 1 month in the freezer for up to 1 month.
Per ball: 130 calories; 3g protein; 6g total fat; 2g fiber; 17g carbohydrates; 0mg cholesterol; 8mg sodium
Excerpted from 100 BEST QUICK GLUTEN-FREE RECIPES © 2014 by Carol Fenster. Reproduced by permission of Houghton Mifflin Harcourt. All rights reserved.