Multi Grain High Fiber GF Bread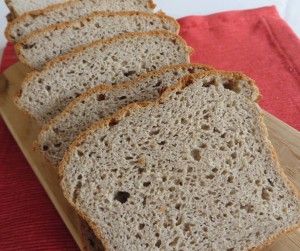 Recipe from Beth Hillson
Makes 2, 4 ½ x 8 ½ loaves
I've been trying to avoid carbs lately and when I do eat them, I stick to gluten free whole grain flours.  They digest more slowly and don't cause my blood sugar to spike.  I can't swear to it, but I think I stay fuller longer, too.  Besides, these flours are high in fiber and nutrients.  They have to be better than breads made with white flours and starches.
I started experimenting with this recipe a couple of years ago.  My goal was to use mostly buckwheat as it is known to lower blood sugar. However, the consistency, without other grains, was dry and crumbly.  So I cut back on the buckwheat and added other whole grains.  The results were delicious and the structure was nearly perfect.  Then I added flax meal and milk powder, boosting the dough with even more protein and moisture.  Perfecto! The structure of this loaf is very light, not something you would expect from a whole grain bread.  And the taste is delicate and nutty owing to the incorporation of these wonderful flours.
If you can't have dairy, replace the milk powder with the same amount of a dairy free milk. Hemp powder works well but I really like quinoasure, powdered quinoa protein.  Sliced bread freezes nicely.
1 ¼ cup buckwheat flour
1 cup sorghum flour
½ cup + 2 tablespoons millet flour
½ cup + 2 tablespoons oat flour
1 cup potato starch or cornstarch
¼ cup + 2 tablespoons amaranth flour
4 tablespoons ground flax meal
½ cup + 2 tablespoons milk powder
4 teaspoons xanthan gum
3 tablespoons sugar
1 ½ teaspoons salt
2 packets active dry yeast (about 4 ½ teaspoons)
4 large eggs
2 cups + 3 tablespoons water
4 tablespoons oil
1 ½ tablespoon cider vinegar
Lightly oil two 4 ½ x 8 ½ inch loaf pans.  Set aside.
Combine first 11 ingredients (up to yeast).  Blend.  Whisk in the yeast.
In a separate bowl, combine eggs, water, oil and vinegar.  Place dry ingredients in the bowl of a stand mixer.  Add the liquids and beat on medium using the paddle attachment.  When liquids are blended with dry ingredients, raise the speed to medium high.  Beat for 3 to 5 minutes or until smooth and shiny and strands of dough pull away from the sides of the pan.
Preheat oven to 375 degrees.  Divide dough between two prepared loaf pans.  Cover with oiled plastic and let rise to the top of the pan.
Bake 30 minutes.  Turn onto a wire rack to cool before slicing.