Makes 6 Burgers
Recipe By Beth Hillson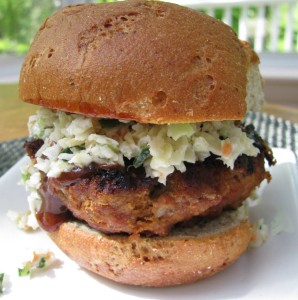 Memorial Day signals the unofficial start of summer.   It's time to start your barbecues!  Here's one of my go-to recipes that is part of every barbecue at my house.  Vary the add-ins and add-ons to suit your taste.  Try adding chopped shiitake mushrooms when you sauté the onions.  Top the burgers with fresh sauerkraut, tangy pickles or fruit slaw.  Serve these with your favorite condiments, too.  Whatever way you present these, they are sure to be a hit.
The secret is to use ground turkey.  (I prefer the dark meat.) It pairs well with so many flavors.  Sautéing the onions (and other veggies) first lends a nice punch to the burgers as well.  Don't forget to pick up some of your favorite gluten free buns.
1 small onion, chopped
1 tablespoon olive oil
3 slices gluten free bread
1 ½ pounds ground dark meat turkey
¼ cup flavorful gluten-free barbecue sauce, smoked or tangy is best, more to top burgers
1 cup shredded cheddar cheese
Salt and pepper to taste
Gluten-free coleslaw
6 gluten free hamburger rolls  (Udi's or Canyon Bakehouse are my two faves)
Heat a grill to medium heat or preheat oven to 375 degrees.
Set a large lightly oiled ovenproof skillet on the stovetop or on the grill and heat to medium high.  Sauté onion (other veggies, too) in olive oil until soft and slightly caramelized.  Set aside to cool.   Keep the skillet handy.  You'll need it for the burgers.
Microwave bread for 30 to 45 seconds or just until soft.  Tear into small pieces.  In a large mixing bowl, combine bread pieces, ground turkey, barbecue sauce, cheese, and salt and pepper.  Add onions (other veggies, too) and mix well.
Form into six burgers.  Put the skillet back on the stovetop or on the grill.  The skillet should still have a coating of oil.  If not, add a tiny bit more (1 to 2 teaspoons).  Add burgers and brown for about 3 minutes.  Flip to brown the other side.
Close the lid on the grill to finish cooking the burgers, about 10 minutes or until they are no longer pink in the center or set skillet with burgers in the oven and bake 10 to 15 minutes or until center is no longer pink.
Here's another way to grill the burgers:  Start burgers in the cast iron skillet placed on the grill with the temperature set at medium heat.  Cover the grill and cook for 5 minutes. The outside will become firm, preventing the burger from sticking to the grids.  Turn the burgers onto the grid to grill and brown for an additional 10 minutes, flipping midway through.
Toast or warm rolls.  Serve one burger on each roll with coleslaw and extra barbecue sauce.