Serves 8
This light, refreshing salsa is packed with flavor and perfect for summer entertaining.  Serve with sturdy corn tortilla dippers.  This way, you are guaranteed to get a big mouthful of deliciousness in each bite.  The salsa is great with grilled lamb, fish, and chicken, too, so you might want to make a double recipe.
3 cups finely chopped seedless watermelon, (about 3 pounds with the rind)
1 medium jalapeno pepper, seeded and minced
3 to 4 tablespoons finely chopped red onion
2 tablespoons minced fresh cilantro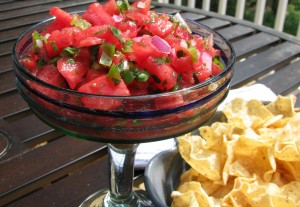 1 ½ tablespoons minced fresh mint
2 tablespoons honey
Juice of one lime
Gluten Free Corn Tortilla Dippers
Directions
In a large bowl, combine the all ingredients except the dippers.  Toss gently to coat.
Refrigerate for at least 1 hour and up to one day. Serve with lots of chips.