From Beth Hillson
Makes 1 loaf (14 servings)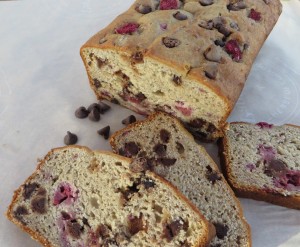 Could anything be better than having three favorite flavors packed into one recipe?  In this loaf, raspberries, banana and chocolate blend together to make a slightly sweet loaf that is as pretty as it is delicious.  Leftovers can be sliced and frozen.  Thaw and reheat in a 350 degree oven for 10 minutes.
2 cups Beth's Gluten-Free Quick Bread Flour Blend + 1 tablespoon (next)
3/4 teaspoon baking soda
1 cup granulated white sugar
4 tablespoons (1/2 stick) unsalted butter, at room temperature
2 large eggs
1 1/4 cups mashed ripe banana (about 3 medium bananas)
1/3 cup plain low fat yogurt
1 teaspoon vanilla extract
1 cup dark or semisweet chocolate chips
1 cup halved raspberries
Additional raspberries and chocolate chips for topping, optional
Preheat oven to 350°F. Spray a 9×5-inch loaf pan with cooking spray. In a medium bowl, whisk together the 2 cups of flour blend and baking soda.
In a separate large bowl, beat the sugar and butter with an electric mixer at medium speed until well blended (about 1 minute). Add the eggs one at a time, beating well after each addition. Add the banana, yogurt, and vanilla; beat until blended. Stir in the flour mixture.  Mix just until moist.  Fold in the chocolate chips.  Gently toss the raspberries with the remaining 1 tablespoon of flour blend and fold into batter.
Spoon the batter into the prepared pan. Top with a few additional chocolate chips and raspberries, if desired.
Bake for 60 to 65 minutes or until a wooden pick inserted in center comes out clean and the top feels firm to the touch.
Cool 15 minutes in the pan on a wire rack. Remove from pan and cool completely on the wire rack.
Beth's Gluten-Free Quick Bread Flour Blend
Several flours are interchangeable in this flour blend.  You'll see them noted here.  I prefer using cornstarch as it produces a lighter quick bread loaf. However, potato starch produces a chewier texture in the beer bread.  Take your pick according to preference and food sensitivities.
Combine these ingredients.  Blend well, then scoop out the amount needed for your recipe.
1 cup sorghum flour (or corn or brown rice flour)
¾ cup rice flour (or buckwheat flour)
¾ cup cornstarch (or potato starch or tapioca starch flour)
½ cup amaranth flour (or quinoa, buckwheat, or millet flour)
2 ½ teaspoons xanthan gum
1 ¼  teaspoons salt