"Keebler" Fudge Stripe Cookie Knockoffs
Posted by vicorock on December 14th 2016 @ 10:14 pm
Recipe from Beth Hillson
Makes 20 to 22 cookies
These shortbread cookies dipped in chocolate make for delightful treats and great holiday gifts. They look just like the Keebler Cookies but taste even better! I used RYZE Blue Flour Blend in place of my own blend. I discovered that this blend makes fabulous cookies – better than any other flour blend I've tried. So, maybe I've given away Keebler's trade secret (not), but this little discovery about RYZE is just between us gluten free bakers. If you prefer, omit the chocolate step and use this recipe for cutout holiday cookies.
2 cups RYZE Blue Flour Blend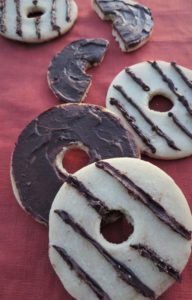 2 teaspoons baking powder
¼ teaspoon salt
1 cup butter, at room temperature
3/4 cup powdered sugar
2 teaspoons pure vanilla extract
16 ounces chocolate chips, melted*
For the Cookies:
Preheat oven to 350°F. Line two baking sheets with parchment paper and set aside.
In a medium bowl, combine RYZE flour, baking powder and salt. Set aside.
Beat butter and sugar on medium speed until fluffy, about 2 minutes. Add vanilla and beat to combine.
On low speed, slowly add flour mixture, stopping to scrape the sides of the bowl until a soft dough forms.
Turn dough onto a sheet of plastic wrap. Cover with a second sheet of plastic wrap and roll to 1/4-inch thickness.
Use a 2 ½ inch biscuit or other circle cutter to cut out cookies. Use a ¼ to ½ inch circle to cut out the centers. Gather the extra dough from around the sides of the cutouts. Slide the piece of plastic with the cut out cookies onto a cutting board or the back of a baking sheet and refrigerate for 15 minutes so the cookies can be lifted without tearing.
Place cookies on prepared baking sheets, 2 inches apart. Bake for 10-12 minutes until edges are just barely golden brown.
Let cookies cool on sheets for 5 minutes before removing to wire rack to cool completely.
Gather remnants of dough into a ball, roll out and cut into more circles as above.
To make the Fudge Stripes and Bottoms:
Spread wax paper on your countertop. Dip bottoms of cookies in melted chocolate, allowing excess to drip off before placing on wax paper.
Once all of the cookies have been coated in chocolate on one side, transfer the remaining chocolate to a small pastry bag fitted with a small, plain tip or a plastic baggie with a hole snipped off one corner.
Drizzle each cookie with stripes. Let chocolate firm up before serving cookies.
*Here's a tip for melting the chocolate: Melt ¾ of the chocolate in a large heat-proof bowl over boiling water. Remove from the heat and add 1 to 2 teaspoons of the hot water (or more) until chocolate is smooth but not too thin. Add remaining chocolate to melted chocolate and stir until smooth. Add more boiling water if necessary.
Post filed under Recipes and tagged easy gluten free holiday cookies, easy gluten free recipes, gluten free, gluten free cookies.