A Recipe From Beth
Serves 10 to 12
Is there anyone alive who doesn't love Tiramisu?  When I make this, it literally disappears when I turn my back for one second.  Delicious doesn't begin to describe this decadent Italian dessert. The rich flavors of mascarpone and cream cheese (or dairy-free alternatives) marry well with the light, airy texture of angel food cake. Make this at least a day ahead to guarantee that all the flavors blend together.  Start with the Espresso Chocolate Chip Angel Food Cake as the base for this yummy dessert, as it boasts flavors of coffee and chocolate. However, any angel food or yellow cake recipe can be used.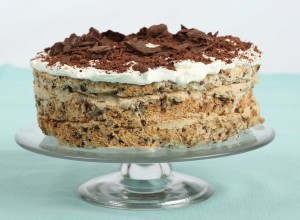 1 cup very cold heavy cream*
1 (8-ounce) container coffee-flavored or plain mascarpone (Italian cream cheese) or 8 ounces softened cream cheese*
4 ounces low-fat cream cheese, softened*
1/3 cup confectioners' sugar
½ cup strong coffee, divided
2 teaspoons pure vanilla extract
3 tablespoons Cognac or brandy
1 Espresso Chocolate Chip Angel Food Cake  (or other cake)
1/3 cup shaved (curled) semisweet chocolate shavings
Line the bottom and sides of a 9-inch springform pan with waxed paper or parchment paper.
With stand or hand mixer, whip heavy cream until stiff and set aside.
In a large bowl, beat mascarpone, cream cheese, confectioners' sugar, 1/4 cup espresso and vanilla. Fold 1 cup whipped cream into the mascarpone mixture, reserving the rest of the whipped cream for topping.
In a small bowl, mix remaining 1/4 cup espresso with Cognac.
With a serrated knife, cut cake horizontally to yield three even layers. Set one layer in the bottom of the prepared springform pan, pressing it to the edges of the pan. Brush the surface with some of the espresso-Cognac mixture. Spread half the mascarpone mixture over the first layer of cake and top with the middle layer of cake. Brush with espresso mixture and top with remaining mascarpone mixture. Top with remaining layer of cake and brush with espresso mixture. Spoon the reserved whipped cream over the top.
Cover with plastic wrap. Chill for at least 6 hours. Unmold and sprinkle with shaved chocolate curls.
* For dairy-free Tiramisu, replace all the cream cheese with a total of 12 ounces dairy-free cream cheese and use So Delicious CocoWhip in place of whipped cream
To Make Chocolate Curls
Melt 1/2 cup semi-sweet chocolate chips with 1 tablespoon of unsalted butter.  Spread in a thin layer over the bottom of a cookie sheet or plate and chill for 30 minutes.  Using a spatula or a knife, scrape away pieces of the chocolate from the surface of the pan or plate in strips.  These should curl slightly as you scrape them from the surface.  Top the Tiramisu just before serving.
This recipe is part of a comprehensive article on how to successfully make angel food cake that will appear in the Spring Baking Guide from Gluten Free & More.  Pick up a copy on newsstands in March 2015.