From Beth Hillson
Move over lazy summer days.  Now that school is back in session, our lives are frantic again.  We are pulled between school schedules, sports practice, and our own routines.  The last thing we need to do is stop to fix a nutritious breakfast.  But maybe it's the first thing we need to do, too.
Here are three nutritious grab-and-go breakfast and snack recipes that will help to fill hungry tummies with healthy food and jump-start the day.
(1)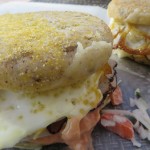 Check out the Balanced Breakfast Sandwiches I whipped up with Glutino English Muffins (one of my favorite prepared foods), fried eggs and breakfast meat.  This quick and delicious meal has lots of possibilities.  Add cheese, turkey, guacamole – you name it.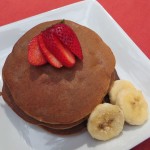 (2) Don't think you need to pull up a seat and load the plate with a stack of pancakes to enjoy my Healthy Banana Pancakes.  A mixture of banana, eggs and a small amount of nutritionally-dense flours, these sugar-free pancakes can be grabbed from the freezer or the fridge and eaten on the go.
(3) Banana Go-Sticks are ready when you need a quick, healthy breakfast and don't have a minute to spare.  Grab one or two from the freezer to eat on the way to work or school.  These filling treats will see you through to lunch.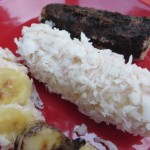 Enjoy and Happy Fall!